Who We Are?
Originating over 5,000 years ago, our inspiration - Ayurveda is an ancient Indian health and wellbeing system based on the holistic and therapeutic properties of botanicals.Our product range of naturally formulated powder mixes and teas using Ayurvedic herbs, roots and flowers -The Tribe Veda helps to maintain body's natural balance by infusing it with natural antioxidants and vitality-boosting essential nutrients.

A sister brand of The Tribe Concepts which offers clean and natural alternatives for hair and skincare. With 94% women in the team, the brand spearheads the 'women in business' notion and ensures female representation in all stakeholder positions, across levels. From sourcing,quality control,product ideation, manufacturing,distribution and sales - women are a quintessential part of The Tribe Concepts and The Tribe Veda journey.
Where are we from?
At The Tribe Veda, we believe looking good is more than just the products we use on the exterior on a daily basis. It is also about feeling great internally.One needs to invest in a regime that goes deeper than the skin. Every single ingredient has been sourced from our motherland especially the region near the Godavari belt.The Godavari River basin is endowed with rich mineral deposits and finds its way directly into our sustainable packing in a pollution-free environment.

As we aim to achieve deeper harmony in our bodies, we must also remember to care for the health of our communities and planet. Sustainably sourced, eco friendly manufacturing and ethical practices is our way of giving back to the Mother Nature.
Our Vision - Inspired By Ayurveda
Our brand is centered around using the ancient science of healing-Ayurveda
We're here to help people achieve and maintain optimal health and well-being. Inspired by the ancient science of healing - Ayurveda, we see the inherent connection between our own health on the inside be the driving force behind how we feel on the outside.

We stay rooted in our mission and values as we continue to grow in our connection to nature, our local communities and to the earth. We're passionately committed to providing products that are organically grown, sustainably sourced and fairly traded.

The Tribe Veda is all about natural alternatives for health that will help nourish from within. To begin with, the product line has a range of health mixes and herbal teas that will help align wellness for people always hustling and always on the go
Our Vision
The Tribe Veda takes wellness back to basics. In the ever busy scheduled way of life, where work always takes precedence and health a back seat we are bringing nature to help us restore inner balance and reconnect with ourselves and the world around us. With 5000 years of time-tested ancient science of healing behind us, we cut through the noise with Ayurvedic products that are reassuringly natural, effective and can easily become a part of our daily routine.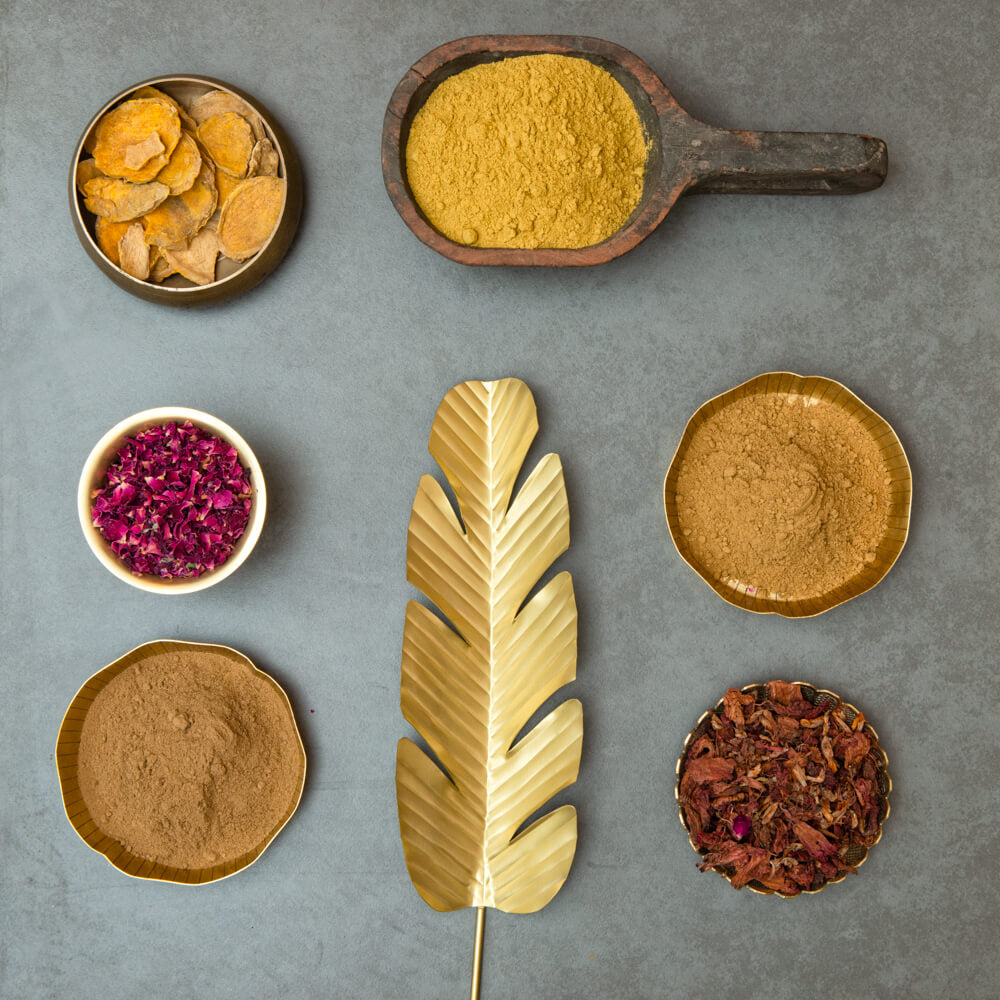 Our Ethos
We believe the ancient wisdom of Ayurveda fits seamlessly into a modern 21st century lifestyle. But unlike so many things in the modern world, Ayurveda doesn't believe just in the quick fix. Naturally formulated using Ayurvedic herbs, roots, flowers and fruits, combined with multi-vitamins and clinically proven actives, The Tribe Veda helps to maintain body's natural balance by infusing it with antioxidants and vitality-boosting nutrients.
We Mirror Wellness - Inside And Outside
We believe that wellness in its purest form is perfect for you and the planet. That's why we are glad to offer pure and 100% natural daily wellness concoctions in plastic free packaging and manufactured with ethical practices.
What is Inside our Tins?
Natural & Organic Ingredients
Plant-Based Ingredients
Export Quality
Lab- Certified Herbs
Good Manufacturing Practices (GMP) Certified
ISO Certified
What is Outside our Tins?
Artificial/Synthetic flavours
Preservatives
Adulterated ingredients
Harmful side effects
Non vegan substances
Animal derived ingredients
Taste enhancers
We Are Dedicated Towards Redefining Organic Beauty Industry By Formulating Downright Covet-Worthy Ayurvedic Products.